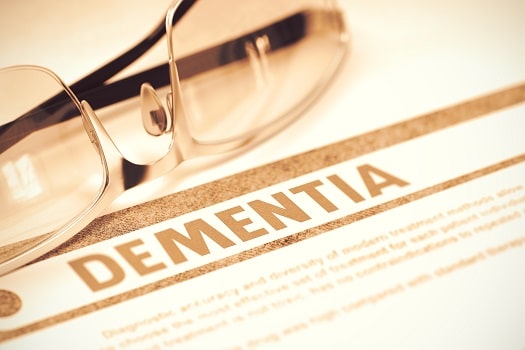 More than five million older adults in the United States are afflicted with dementia. Though Alzheimer's is the most widely known disease process associated with causing dementia, there are a variety of disorders that also cause cognitive impairment. Here's a look at some of the most common types of dementia in the elderly.
1. Alzheimer's Disease
Alzheimer's disease is the sixth leading cause of death in older Americans, and the number of afflicted seniors is also expected to rise by 14 percent in the next decade. As research continues, scientists continue discovering the variables that contribute to the accumulation of beta-amyloid proteins in the brain. The proteins are found at different locations on the neurons. As they grow in number, they stick together, which displaces the normal neuronal configurations. In turn, communication in affected areas ceases, causing cognitive impairment and other sensory deficiencies.
Seniors with Alzheimer's have much to gain when their families opt for professional Alzheimer's care. Tucson families can rely on compassionate and dedicated caregivers to help their elderly loved ones manage the various challenges of Alzheimer's disease so they can enjoy a higher quality of life.
2. Mixed Dementia
Mixed dementia refers to more than one type of dementia. Often, seniors with Alzheimer's also have vascular dementia. Physicians estimate that up to 45 percent of people with dementia have more than one type. Mixed dementia has also been known to cause a varied array of symptoms that differ from one person to the next. One senior may initially experience memory loss and become disorientated to time and place, while another may exhibit unusual behavioral changes and mood swings.
3. Frontotemporal Dementia
Frontotemporal dementia accounts for up to 15 percent of all dementia cases and involves tissue shrinkage in the frontal and temporal regions of the brain. MRI and PET imaging scans distinguish the disorder from other disease processes that cause dementia. The disorder progresses over time and symptoms develop according to which areas of the brain are damaged. In addition to symptoms of cognitive impairment, affected adults may exhibit issues with speech and physical movement.
If your senior loved one has been diagnosed with a serious condition and needs help with tasks like meal prep, transportation, bathing, and grooming, reach out to Home Care Assistance, a leading provider of home care Tucson, AZ, families can trust. We also offer comprehensive care for seniors with dementia, Alzheimer's, and Parkinson's.
4. Cortical Dementia
Cortical dementia occurs in the cerebral cortex, which is responsible for memory and speech. Neuron damage in this area of the brain causes memory loss and difficulty remembering the right words. Some seniors may also lose the ability to understand language. Alzheimer's and Creutzfeldt-Jakob disease are two disorders known to affect the cerebral cortex.
5. Vascular Dementia
Diabetes, high cholesterol, hypertension, strokes, and other forms of vascular disease interfere with blood flow to the brain in specific areas, which leads to vascular dementia. The disorder affects four percent of the older adult population and causes symptoms similar to Alzheimer's disease.
6. Lewy Body Dementia
Lewy body dementia is considered the second most common reason for cognitive impairment. The disease process was named for the physician who discovered the abnormal brain lesions that damage delicate nerve tissue, and it causes a combination of Alzheimer's disease and physical Parkinson's-like symptoms. Approximately 1.3 million people in the United States have Lewy body dementia. Seniors with Parkinson's may develop Lewy bodies, although the disorder is an entirely different disease.
If your elderly loved one is living with a serious medical condition and needs help managing the tasks of daily living, reach out to Home Care Assistance, a Tucson senior home care agency you can trust. Our caregivers are available 24/7, there are no hidden fees in our contracts, and we offer a 100% satisfaction guarantee on all of our in-home care services. To learn about our high-quality in-home care plans, give us a call at (520) 276-6555 today.