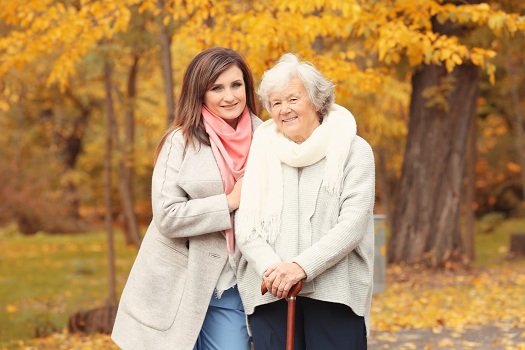 When seniors shuffle their feet as they walk, family caregivers might tell them to pick up their feet. However, reminders are rarely effective because this type of walking pattern often has some other underlying cause. Understanding the risks involved with a shuffling gait along with how to address the most common causes can help you provide your aging loved one with the care he or she needs to avoid a painful fall.
Talk about Ways to Prevent Falls
If your loved one's shuffling gait recently appeared after a fall or an injury, the walking pattern may be motivated by fear of falling. Help your loved one identify parts of the home with a high fall risk by scheduling a home safety assessment. A professional caregiver may notice things you and your loved one might miss, such as a piece of furniture in the walkway or an odd bump in a wooden floor. Take steps to remove these hazards so your loved one has more confidence when walking. 
Providing care to an aging adult at home can be difficult if he or she has a history of falling. Certain age-related conditions can make it more challenging for seniors to age in place safely and comfortably, but Tucson live-in care experts are available around the clock to help seniors manage their health. Whether your loved one is living with dementia or recovering from a stroke, you can trust the professional live-in caregivers from Home Care Assistance to enhance his or her quality of life. 
Steady Balance Issues with Mobility Aids
A decrease in a senior's sense of balance can be caused by many different issues. For instance, your loved one may feel dizzy after taking certain medications. However, you can address a lack of balance by offering mobility aids that fit your loved one's abilities. Your loved one may need a cane to remain steady while walking or prefer a walker to feel more comfortable about picking up his or her feet.
Treat Medical Conditions that Affect Walking
Diabetes can cause nerve damage in the feet that limits movement or makes it difficult for your loved one to feel the floor. The tremors and sudden jerky movements associated with Parkinson's disease may cause your loved one to walk with a shuffle. Vision loss, vertigo, and back pain are a few common conditions that need treatment to promote a better walking pattern.
Suggest Exercises to Strengthen Muscles
As muscle mass begins to decrease, your loved one may have difficulty bending the knees while picking up his or her feet. Fortunately, simple exercises such as leg lifts can strengthen the muscles over time. Keep in mind your loved one should never try to do leg-strengthening exercises independently if he or she already faces difficulty with balance. Provide help or hire another caregiver so your loved one doesn't skip his or her workouts or risk an injury. 
Homecare professionals can be a wonderful boon to seniors. Whether they require around-the-clock supervision or just need assistance with exercise and household tasks a few days a week, seniors can enjoy a higher quality of life with the help of trusted in-home caregivers.
Check Your Loved One's Flexibility
The joints in the ankles and knees must be flexible enough to perform the mechanical actions involved in walking properly. Ask the doctor to check your loved one's flexibility. If your loved one has stiff joints, he or she may need to do some stretching exercises to regain the ability to move the ankles properly when walking.
Staying healthy and active in the golden years may help aging adults mitigate the risk of fall-related injuries. Seniors who want to remain healthy as they age can benefit in a variety of ways when they receive professional at-home care. Tucson, AZ, Home Care Assistance is here to help your loved one accomplish daily tasks, prevent illness, and focus on living a healthier and more fulfilling life. Trust your loved one's care to the professionals at Home Care Assistance. To create a customized home care plan for your loved one, call (520) 276-6555 today.