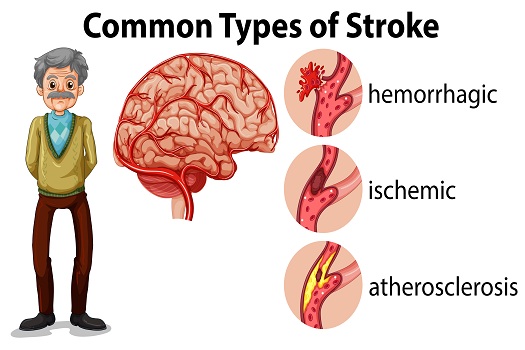 Nearly 800,000 strokes occur each year in the United States, according to strokecenter.org. Approximately three-quarters of strokes affect adults 65 and older. Also, the risk of having a stroke doubles each decade beyond the age of 55. This is why it can be helpful to have a better understanding of the different types of strokes that could affect your senior loved one.
Ischemic Stroke
The most common type of stroke, according to the American Stroke Association, is an ischemic stroke, which occurs when blood flow to the brain is disrupted by some type of obstruction. The main cause of this type of stroke is an accumulation of fatty deposits along the sides of blood vessel walls.

Symptoms associated with an ischemic stroke include:

• Sudden weakness or numbness, often affecting one side of the body
• Difficulty speaking and/or walking
• Loss of balance
• A severe headache that suddenly develops without warning
• Vision impairment
Stroke survivors who recover at home often need help with the everyday tasks of life. Many seniors prefer aging in place over moving to assisted living facilities. If your senior loved one needs assistance to remain safe and comfortable while living at home, reach out to Home Care Assistance, a leading senior care agency. Our dedicated in-home caregivers can assist with meal prep, bathing and grooming, exercise, medication reminders, and many other important tasks.
Hemorrhagic Stroke
This type of stroke occurs when a weak, worn, or damaged blood vessel ruptures. A hemorrhagic stroke is more likely to occur if blood vessels are already ballooning or bulging or if they're malformed in some way. High blood pressure that's not sufficiently managed is the top cause of strokes of this nature.

In addition to what's mentioned above, symptoms associated with a hemorrhagic stroke include:

• Seizures
• Nausea and/or vomiting
• A change in alertness or attentiveness
Transient Ischemic Attack/Mini-Stroke
Often referred to as a "mini-stroke," a transient ischemic attack, or TIA, occurs as a result of a temporary blood clot. Symptoms may be mild or difficult to detect (e.g., suddenly becoming confused). However, a mini-stroke is often a warning sign that a more serious type of stroke is imminent. For this reason, your loved one should be examined as soon as possible if it appears he or she may have experienced a mini-stroke.

Symptoms typically associated with a transient ischemic attack include:

• Vertigo and/or dizziness or a loss of balance and coordination
• Slurred/garbled speech
• Paralysis and/or numbness
• Drooping on one side of the face
• Difficulty swallowing
• Short-term memory loss and/or confusion
The effects of strokes can make it difficult for seniors to live at home safely without having caregivers close by at all times. Certain age-related conditions can make it more challenging for seniors to age in place safely and comfortably, but Tucson live-in care experts are available around the clock to help seniors manage their health. Whether your loved one is living with dementia or recovering from a stroke, you can trust the professional live-in caregivers from Home Care Assistance to enhance his or her quality of life. 
Cryptogenic Stroke
According to the American Stroke Association, roughly one out of every four ischemic strokes is classified as having no defined or determined origin. Strokes of this nature are referred to as cryptogenic strokes. Anywhere from 15 to 40 percent of strokes don't have clear causes or sources, according to the American College of Cardiology.
Brain Stem Stroke
This is a stroke that occurs in the stem of the brain, which extends from the cervical spine/neck area to the base of the brain. When a stroke happens in this area, both sides of the body are often affected. A person experiencing this type of stroke may be in a frozen or "locked-in" state, and the affected individual may not be able to move below the neck area. There may also be an inability to speak. Respiration and heart rate may be affected as well. Also, hearing and eye movements may be affected to some extent. 
Senior stroke survivors often need very specialized care from professionals with experience in providing support during stroke recovery. There are a variety of age-related health conditions that can make it more challenging for seniors to live independently. However, many of the challenges they face can be easier to manage if their families opt for professional homecare services. Tucson families can rely on expertly trained caregivers to keep their loved ones safe and comfortable while aging in place. Trust your loved one's care to the professionals at Home Care Assistance. To create a customized home care plan for your loved one, call (520) 276-6555 today.